Top 5 Accessories for Men to Take on a Private Jet
Extend the luxury and comfort of a private flight to your onboard luggage and possessions. We've gathered a list of the 'most wanted' accessories for men to take on a private aircraft charter. From luxury leather travel apparel to the latest tech to keep you company in the skies, our top five list has just landed!
1. Rimowa Topas Stealth Multiwheel Electronic Tag
We couldn't have a top five without including the most important travel accessory of all – the suitcase. But this isn't just any suitcase. Rimowa has been crafting luggage items since 1898, and is now an industry leader in technology and cutting-edge design. Its designers have created the first fully integrated digital suitcase – the Rimowa Topas Stealth Multiwheel® Electronic Tag – which can display a digital boarding pass that allows the owner to check in for scheduled airline flights using an app, thereby eliminating the need for a paper boarding pass. Even though you don't need a boarding pass for a private charter flight, this is still a super-useful feature to have these days. The aluminium shell and two TSA combination locks provide unparalleled protection and security while in transit. The Rimowa gourmet range also features a Champagne box and a wine case for all your onboard essentials!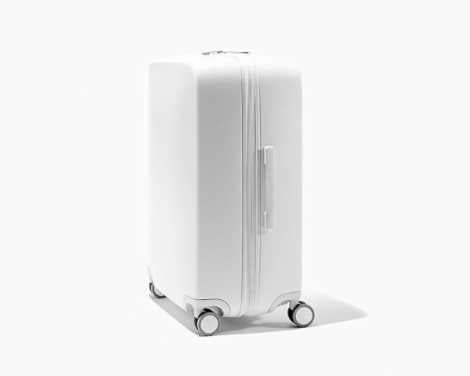 2. Raden A28 Check Suitcase
The second item on our list of men's accessories for private air travel is the Raden A28. Raden suitcases feature a built-in charger, with a 7,800mAh battery for four full phone charges and two USB ports for dual device charging. Even better, GPS technology with proximity sensors and Bluetooth technology allow you to easily locate your suitcase when you need to, so you'll never lose track of it. The Raden A28 Check suitcase can withstand even the roughest of turbulence, and its flexible hard shell is made from super lightweight polycarbonate – pair it with the Raden app for the latest in elegant but practical travel tech.
3. Aspinal of London Luxury Backgammon or Poker Set
It can be tempting to spend a flight plugged in and connected, given most aircraft charter planes offer in-flight Wi-Fi, but we recommend taking the opportunity to savor your luxury flight experience by switching off the tech and tuning in to friends or family. A popular way to pass the time on a private flight is enjoying a game of backgammon with friends or colleagues.
Begin the adventure on board your aircraft rental with this luxury set from Aspinal of London, crafted from Italian calf leather with a handmade wooden frame. If you like to travel really light, the company even offers a beautiful high-end roll-up version too, which has been hand-crafted from Italian full-grain leather.
4. Solloshi Hyperion Titanium Cigar Travel Case Diamond Edition
Here's one for the cigar aficionados out there. What could be more indulgent than enjoying a cigar at 12,500m? Depending on the aircraft you've chosen to rent, smoking on board a private jet can be permitted, but only at the aircraft owner's discretion. The cigar-lover's ultimate accessory is the Hyperion Titanium Travel Case by Solloshi, made with certified Grade 5 titanium. It can fit three large cigars up to 21cm in length, and features an integrated humidifier, which keeps the storage environment at optimal humidity. Only 168 'diamond' limited-edition cases were made by Solloshi, making this a true collector's item.
5. Smythson Mara Currency Case
Be ready to splash the cash from the moment you step off the plane. This Smythson currency case is not only the picture of opulence in crocodile-print calf leather, it also conveniently features four color-coded zip pockets to let you store different types of currency, making organization a breeze; and why not board your private charter with the matching stylish Mara passport holder?

Travel in true style with ACS aboard a private jet charter
Air Charter Service (ACS) offers private jet charter and concierge services to meet every business and leisure travel eventuality, wherever you are in the UAE. You can get an instant air charter quote for your bespoke journey with our private jet prices tool, or contact us for more information.